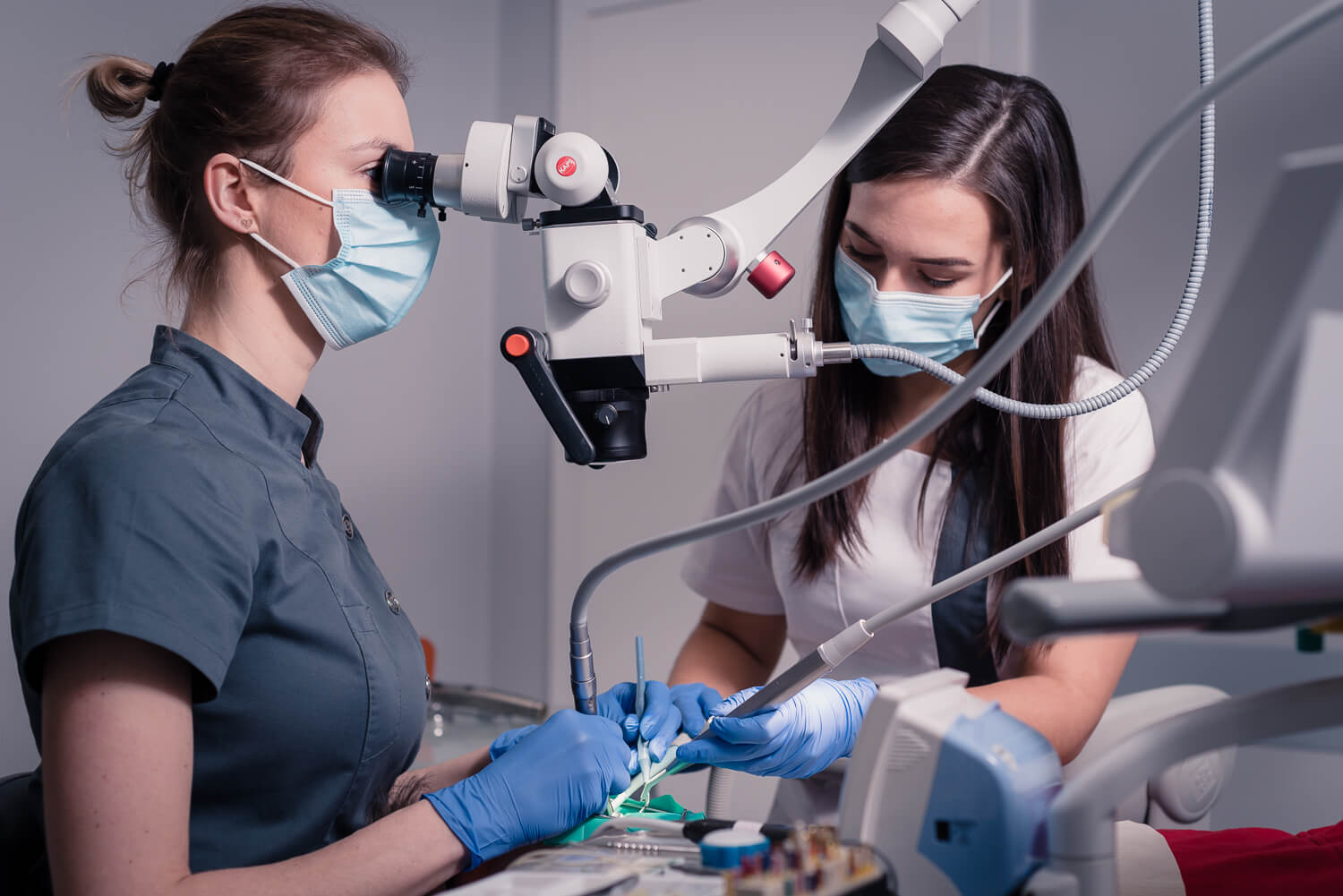 ENDODONTICS

ROOT CANAL TREATMENT

MICROSCOPE
PROFESSIONAL, PAINLESS AND EFFECTIVE
Endodontics or root canal treatment, involves widening, cleaning and tightly filling root canals. Modern equipment along with our experience provides our patients with guaranteed, effective, fast and painless treatment, retaining the tooth where tooth removal would be a last resort.
The thorough cleaning of the root system and its complete filling – up to the apex is the key to successful treatment. The desired results can only be achieved using precession microscope equipment with accurate electronic measurements that are used for all our root canal procedures.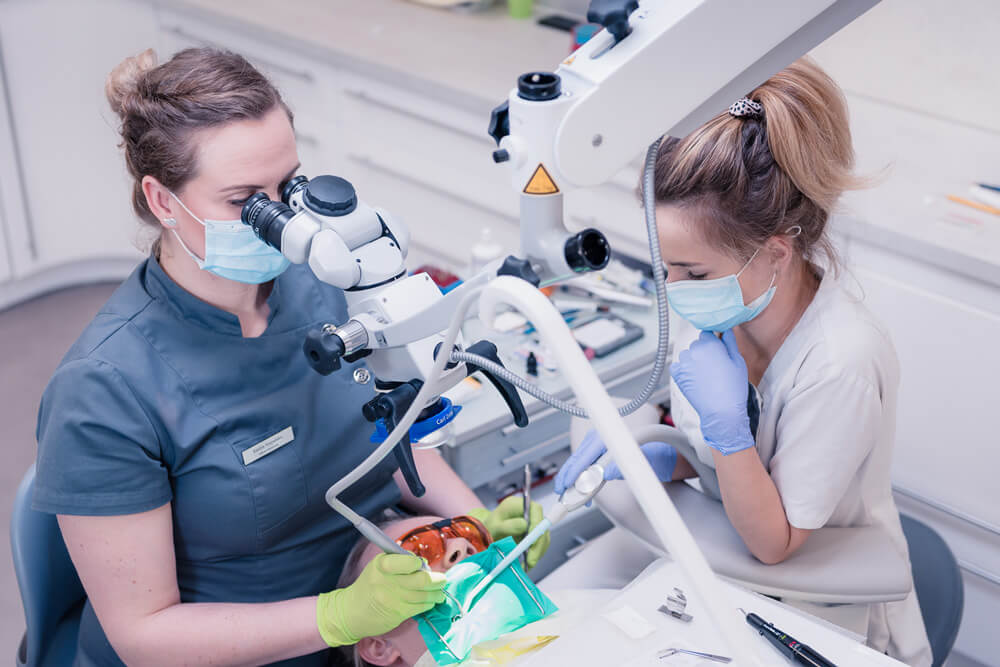 PREPARATION FOR TREATMENT
POSITIONING | ANAESTHESIA | HYGIENE
Root canal treatments are always performed on the patient in a supine position and using a local anesthetic, making the procedure as comfortable and painless as possible.
Endodontic treatments involve the use of a cofferdam, a dedicated rubber protective sheet which prevents saliva from entering the treated tooth and keeps the general area sterile.
During treatment use the highest hygienic standards – in accordance with the guidelines issued by the Polish Dental Association and the WHO.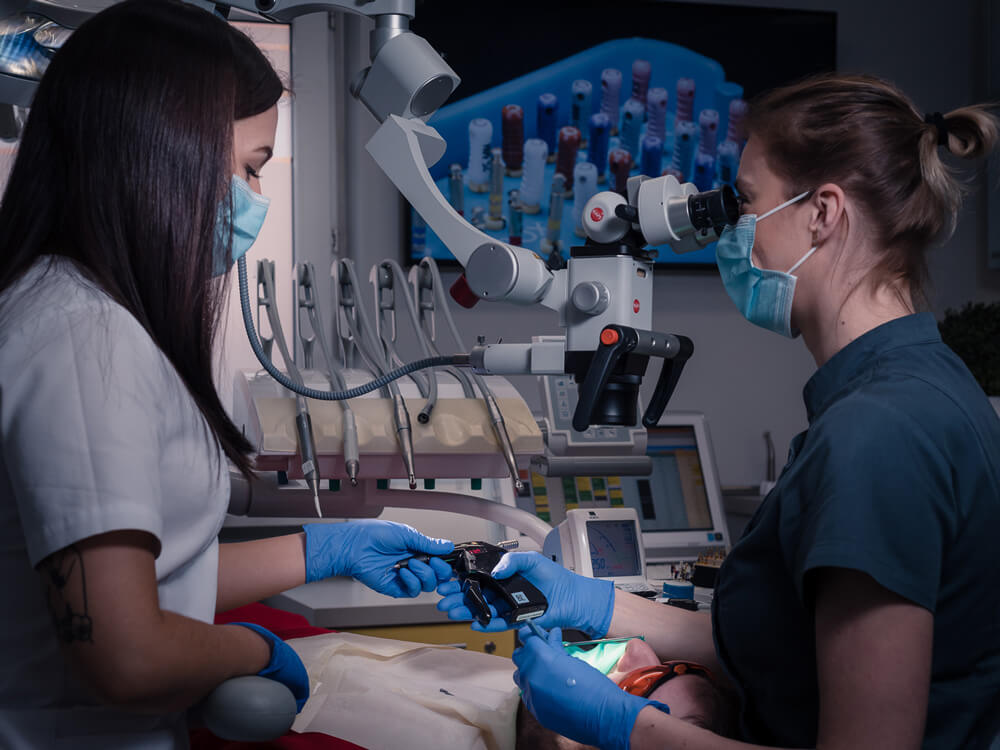 ROOT CANAL TREATMENT STAGES
Initially, we carry out precise diagnostics, followed by:
thorough cleaning of the canals, determining their length using electronic measurement (an endometer),
rinsing the canals with specialized dental antiseptics activated by ultrasound.
then we work on the canal walls using specialized files, dental drill machinery and manual tools
the final stage includes a tight and very precise filling of the canals through a system involving the injection of warm gutta-percha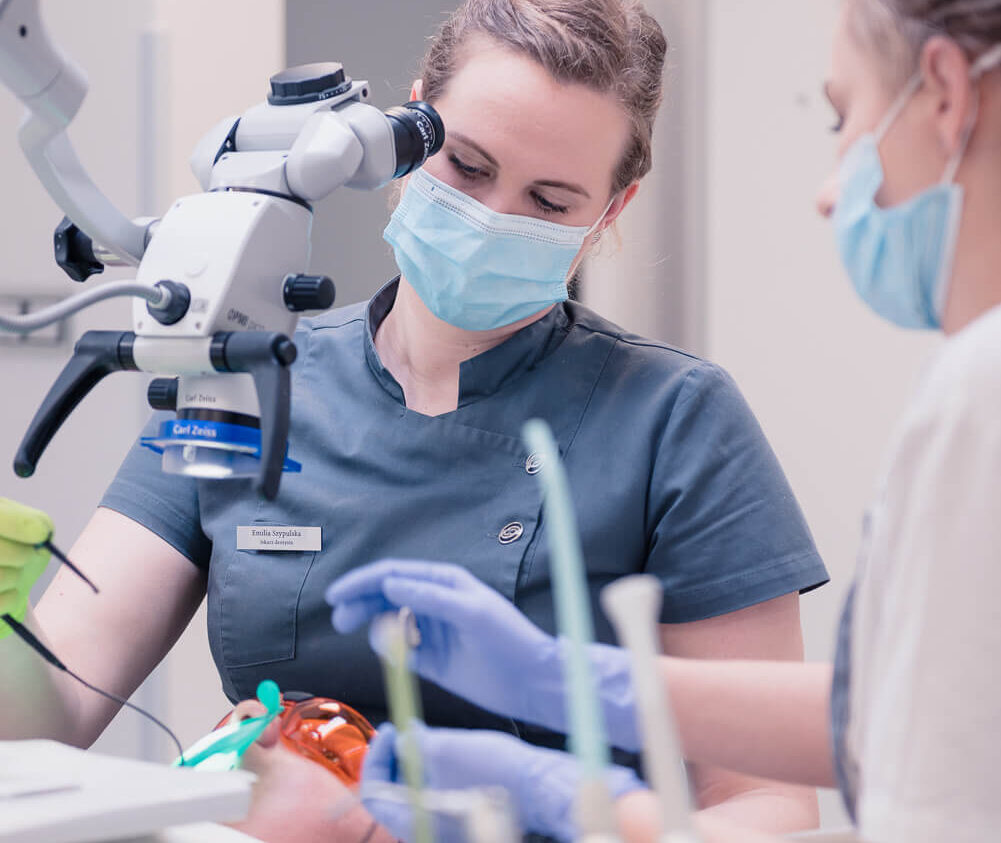 Aftercare for a root canal treatment at NB Dental Clinic includes x-raying the completed procedure to verify the results.
In keeping highest standards, we strive to carry out our root canal procedures in a single visit. In more complicated cases, it might be necessary to divide the treatment into stages.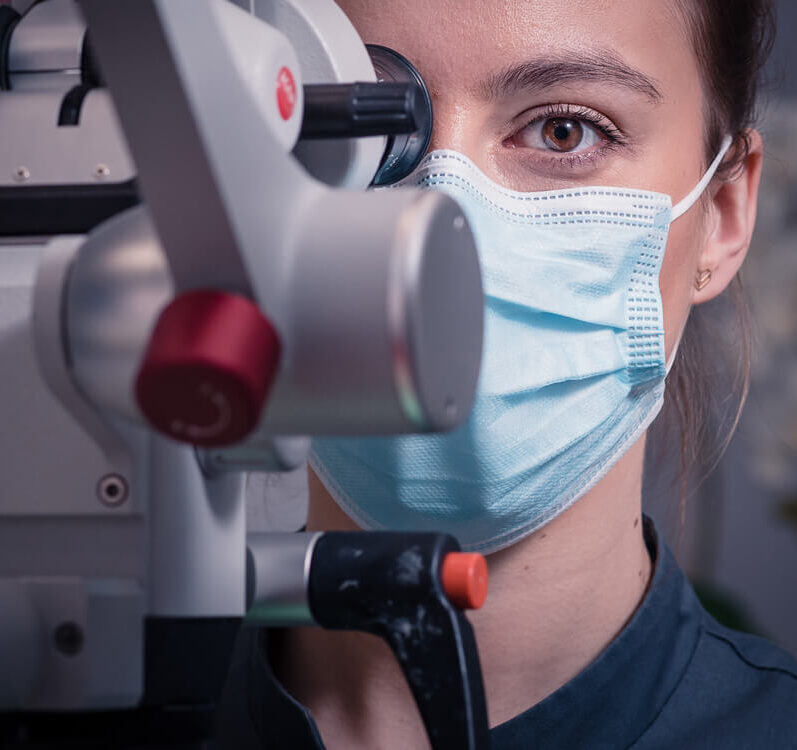 ROOT CANAL TREATMENT UNDER A MICROSCOPE
COMPLETE PRECISION OF TREATMENT AS A STANDARD
We help our patients with the use of a dental microscope at NB Dental Clinic which is our standard practice.
The anatomy of a root canal system in a tooth is often complex and requires treatment through the use of high magnification which helps in finding lateral branches and additional canals.
The overall effectiveness of a root canal treatment is aided by the use of the microscope and allows us to:
penetrate deep into the tooth tissue not normally visible with the naked eye
to effectively recanalize tooth canals
to help remove obstructions
to help close microperforations